Pro Santa Shop – Santa Suits
CUSTOM TO WEAR
Prosantashop realizes that there is not always time to have a custom Santa suit made prior to the season. For that reason, we have made a limited number of both Traditional Suits (fur down the front with zipper) plus Cola suits (buttons down the front) in two colors of red velvet in XL, XXL, XXXL. Each suit has longer sleeves and pant legs which will have to be adjusted by your local seamstress/tailor.
PRICE IS $1,750.00 which includes shipping to the domestic USA. Contact me to see what is available.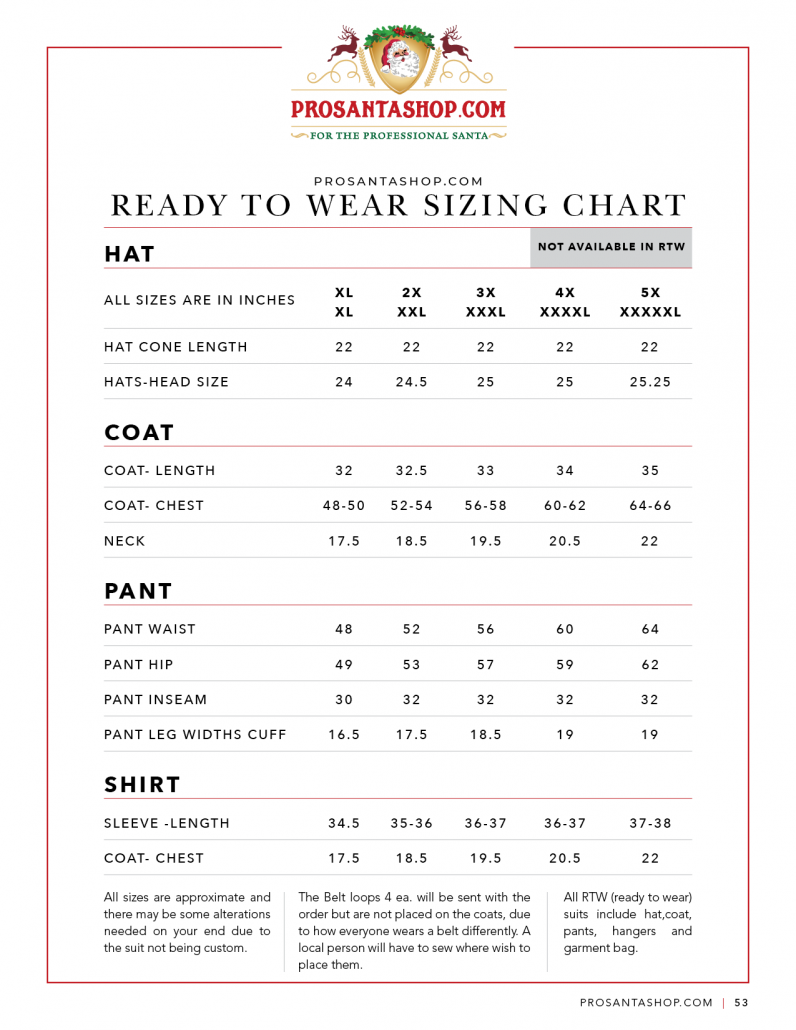 Custom to Wear Santa Suits
No Results Found
The page you requested could not be found. Try refining your search, or use the navigation above to locate the post.
Starting September 1, 2019, All orders include domestic USA shipping, Custom ordered suits include a steel red powder coated hanger and garment bag for your investment.
Custom Santa Suits:
Material:  All of our Traditional suits are made from Velvets Scarlet, Xmas (dark red) and Red/Green. All of our vintage and unique suits have various types of materials.
Fur:  All of our furs are faux furs: Sable, Rabbit, Polar Bear, Polar Bear II, Snow White and Marilyn, along with other colors.
Designs:  There are many styles and designs available.  We can do any of the following and your imagination is the only thing we rely on.
Lined Coats: All of our coats are lined with either silk or satin.
Pants:  all pants have brace buttons (buttons for suspenders), a zippered fly, and a hook at the waistline.